---
GOOD SKIN – ACID PEEL – correcting and normalizing micro-exfoliating face wash gel – AHA + PHA acids, nicinamide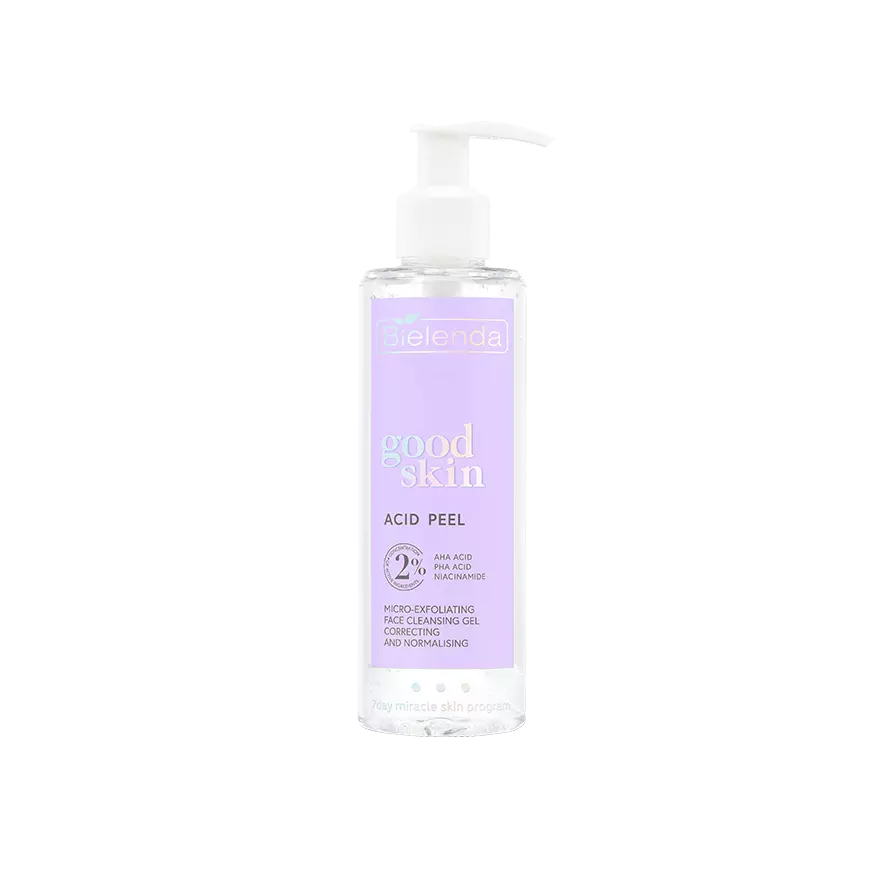 Product description
Do you struggle with oily skin, combination skin, prone to imperfections? Reach for the micro-exfoliating, correcting and normalizing Bielenda Good Skin Acid Peel cleansing gel, and your skin will be grateful to you. The gel works well as a preparation, cleansing the epidermis of impurities, makeup residues and excess sebum. Effectively reduces the shine of the skin without drying it. Prepares the epidermis for further care, restores the feeling of comfort and refreshment
Capacity: 190 g

Working
The rich interior of our gel – see how good your skin can look!
AHA + PHA acids – show moisturizing and normalizing properties, exfoliate unnecessary, calloused epidermal cells, which contributes to the fight against discoloration. When used regularly, they brighten the skin, improve its color and condition.
Niacinamide – is a strong antioxidant, helps to slow down the formation of wrinkles, regulates the excessive secretion of sebum, supports the fight against the formation of pimples. It strengthens the protective barrier of the epidermis and helps to reduce the visibility of enlarged pores.

Effect
7-day miracle skin program – WOW! After a week of use, you will notice*:
- smoothing the skin by 22%
- reduction of sebum secretion by 4%
- 30% less visibility of blackheads
*effectiveness confirmed in the apparatus testing program. Effects visible when using the gel with cream, serum and tonic from the Acid Peel line for 7 days.

Usage
Spread the gel on damp skin of the face, avoiding the eye area, gently massage and then rinse thoroughly with lukewarm water.

Composition
Aqua (Water), Coco-Glucoside, Niacinamide, Lactobionic Acid, Mandelic Acid, Propanediol, Hydroxyethylcellulose, Polysorbate 20,Disodium Phosphate, Sodium Phosphate, Disodium EDTA, Ethylhexylglycerin, Phenoxyethanol, Parfum (Fragrance), Limonene, Linalool. 
More products from the series: