---
GOOD SKIN – GLOW BOOST – brightening tonic – glycolic acid, vitamin C, ferulic acid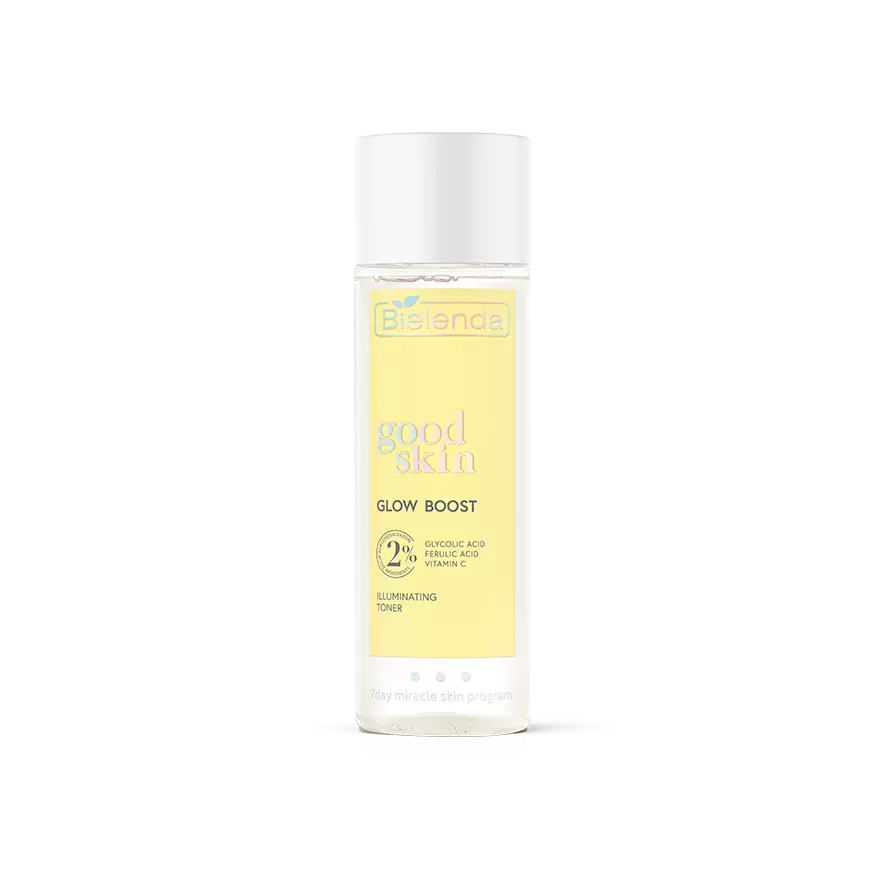 Product description
Are you struggling with gray, dull and prone to discoloration skin? Reach for the Bielenda Good Skin Glow Boost illuminating tonic and your skin will be grateful to you. The tonic has a refreshing effect on the skin, has illuminating properties, leaves a feeling of comfort and helps to even out the color. In addition, it will restore the natural glow, radiant appearance and will not violate the hydro-lipid barrier of the epidermis.
Capacity: 200 ml

Working
See how good your skin can look!
Glycolic acid – perfectly evens out the skin tone, regenerates the epidermis with discoloration, smooths, prevents premature aging and supports the skin in stimulating collagen production.
Vitamin C – is one of the strongest antioxidants. When used regularly, it supports the fight against wrinkles, brightens the skin, helps to reduce discoloration, improves color, firms and noticeably improves the condition of the skin.
Ferulic acid – shows strong depigmentation properties. It supports the fight against sun discoloration and skin aging, and can also help to alleviate inflammation.

Effect
7-day miracle skin program – WOW! After a week of use, you will notice*:
- improved skin hydration by 23%
- lightening of skin tone by 2% 
- lightening of discoloration by 2% 
*effectiveness confirmed in the apparatus testing program. The effects are visible when using the tonic with cream and serum from the Glow Boost line for 7 days

Usage
Pour a small amount of tonic on a cotton pad and gently rub the skin. There may be a slight tingling sensation on the skin. Use after removing make-up or to refresh the skin. If you want to be #lesswaste, apply the tonic directly to your hand and gently massage it into the skin. The product does not require washing. During the day, remember to apply sunscreen.

Composition
Aqua (Water), Glycolic Acid, Sodium Lactate, Propanediol,3-O-Ethyl Ascorbic Acid, Ferulic Acid, Panthenol, Polysorbate 20,Disodium EDTA, Tetrasodium Glutamate Diacetate, Ethylhexylglycerin, Phenoxyethanol, Parfum (Fragrance).
More products from the series: