---
GOOD SKIN – GLOW BOOST – brightening serum – glycolic acid, vitamin C, ferulic acid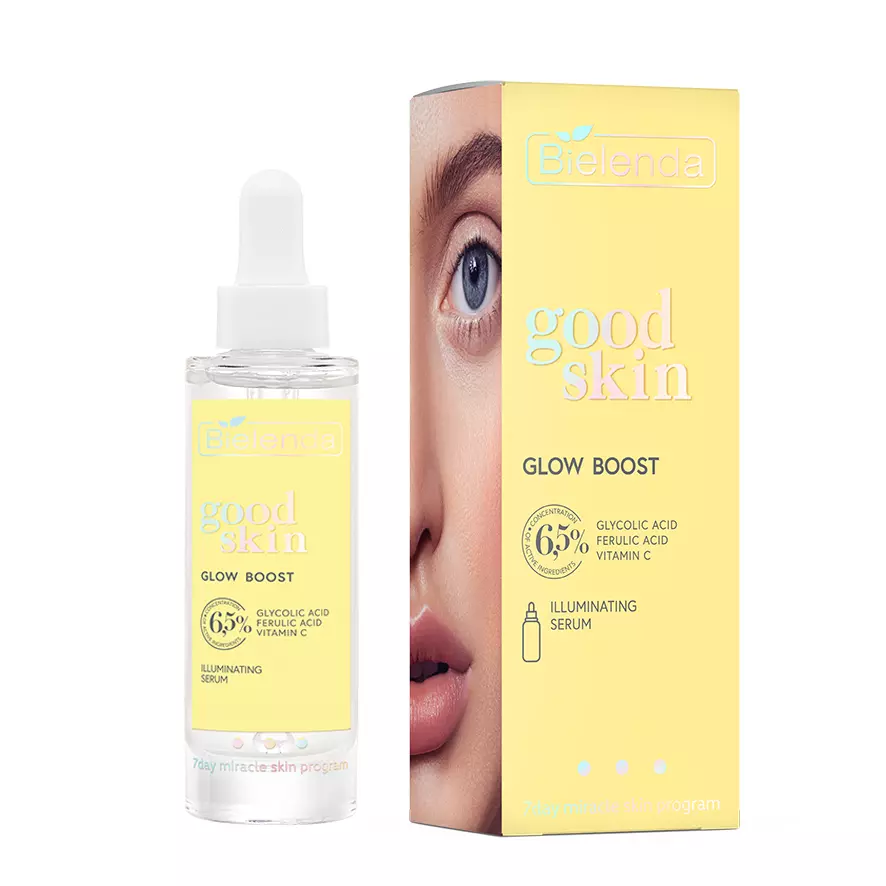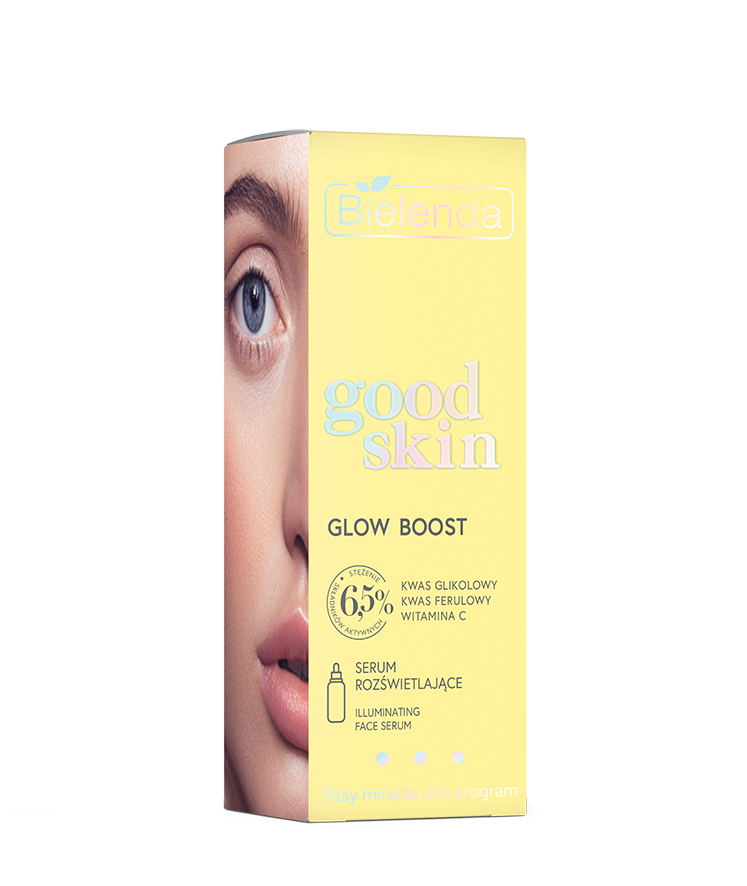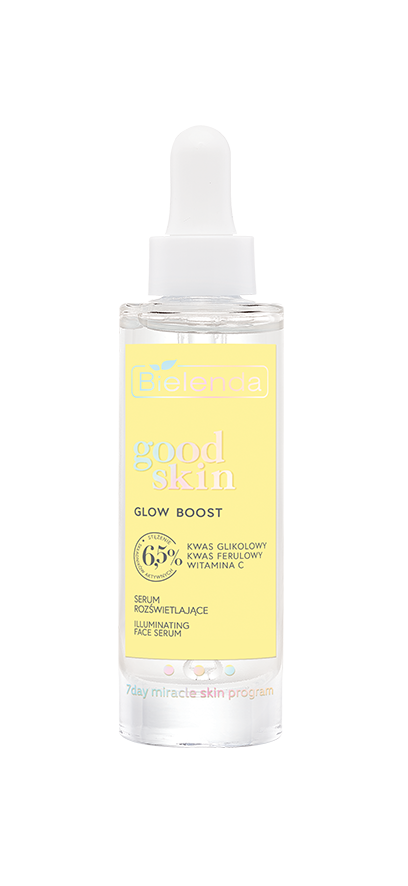 Product description
Are you struggling with gray, dull and prone to discoloration skin? Reach for the Bielenda Good Skin Glow Boost illuminating serum, and your skin will be grateful to you. The concentrated product helps to even out the skin tone, lightens discolorations, adds a radiant glow and illuminates. In addition, it has an anti-wrinkle effect and contributes to the fight against imperfections.
Capacity: 30 ml

Working
See how good your skin can look! The recipe includes carefully selected, very effective active ingredients (with a concentration of up to 6.5%!), Which will perfectly cope with gray and dull skin. In addition, our serum does not contain a fragrance - its smell is characteristic of the ingredients used.
glycolic acid - perfectly evens out the skin tone, regenerates the epidermis with discoloration, smooths, prevents premature aging and supports the skin in stimulating collagen production.
vitamin C - is one of the strongest antioxidants. When used regularly, it supports the fight against wrinkles, brightens the skin, helps to reduce discoloration, improves color, firms and noticeably improves the condition of the skin.
ferulic acid - shows strong depigmentation properties. It supports the fight against sun discoloration and skin aging, and can also help to alleviate inflammation.

Effect
What will your skin feel? Firstly – improving the appearance and color! Secondly – illumination and radiant glow!
7-day miracle skin program – WOW! After just one week of use, you will notice*:
- improved skin hydration by 23%
- lightening of skin tone by 2%
- lightening of discolorations by 2%
*effectiveness confirmed in the apparatus testing program. The effects are visible when using the serum with the cream and tonic from the Glow Boost line for 7 days.

Usage
Massage a few drops of the serum into the cleansed skin of the face, neck and décolleté every evening. Use on its own or as a base for your Glow Boost cream. There may be a slight tingling sensation on the skin after application. During the day, remember to apply sunscreen.
ATTENTION! In the case of couperose skin, it is recommended to apply the product in spots on discoloration.

Composition
Aqua (Water), Glycolic Acid, Sodium Lactate, 3-O-Ethyl Ascorbic Acid, Panthenol, Propanediol, Ferulic Acid, Disodium EDTA, Tetrasodium Glutamate Diacetate, Hydroxyethylcellulose, Disodium Phosphate, Sodium Phosphate, Phenoxyethanol, Ethylhexylglycerin.
More products from the series: