---
COMFORT rejuvenating treatment for hands and nails with gloves 10 ml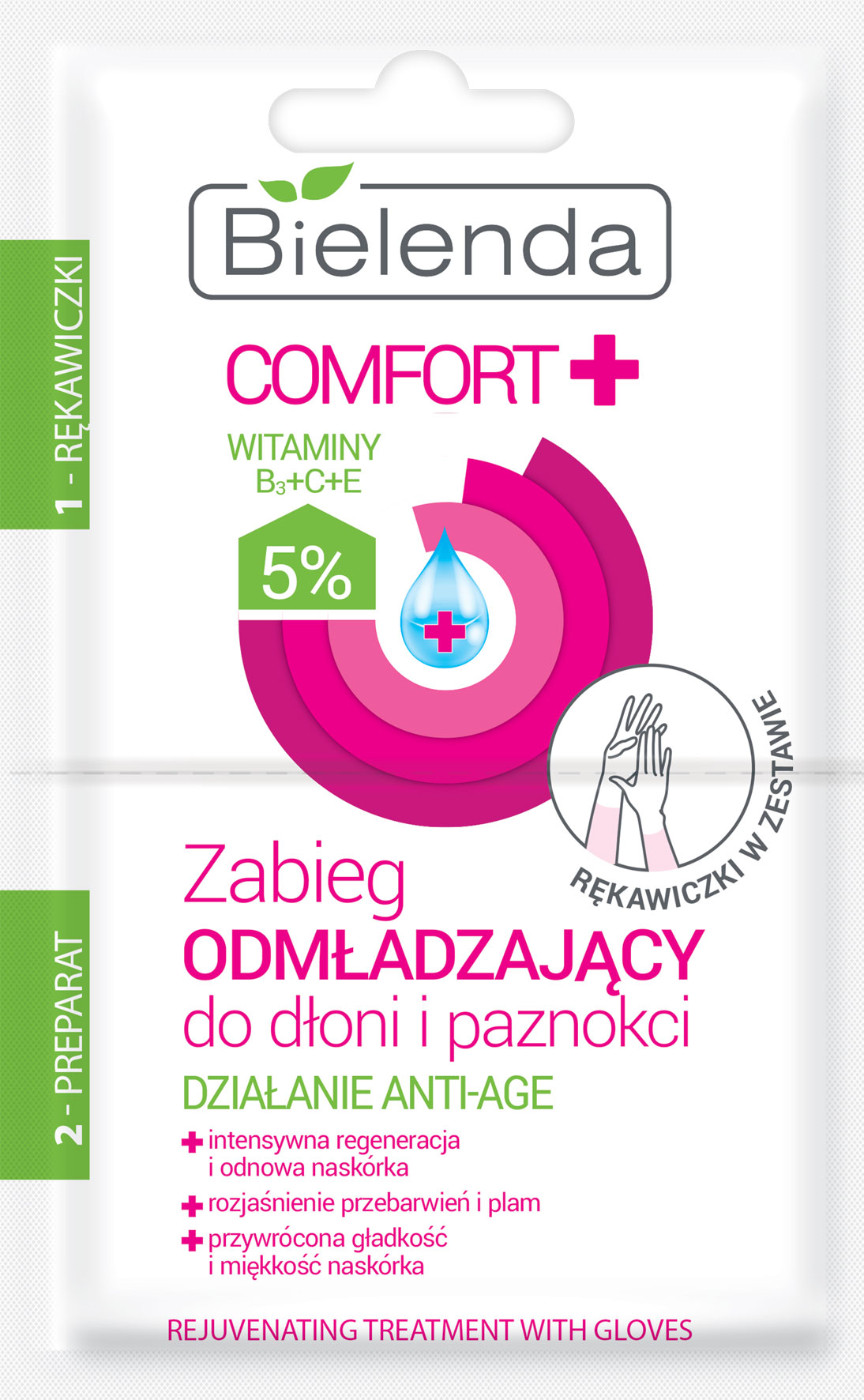 Product description
A unique rejuvenating treatment for hands, with rich ANTI-AGE formula that comprehensively cares for the gentle skin of your hands, efficiently supports it in fighting symptoms of ageing an time, resulting in skin renewal. .

Working
The treatment efficiently smooths moisturizes, nourishes and brightens the skin as well as improves its condition and appearance. A preparation with uniquely concise formula, rich in nourishing active ingredients. High content of vitamins responsible for young appearance of skin: C,E and B3, as well as rejuvenating coenzyme Q10 provide perceptible and visual nourishing, moisturizing, brightening and softening effects. The recipe of the mask is intended to "wrap" the skin like a poultice, smooths it, soothes irritations, take care of it, and give you a sense of comfort and regeneration

Effect
Smooth, manicured hands.

Usage
Application:
Massage the preparation thoroughly into clean and dry hand skin. Put on foil gloves attached to the treatment and wear them for 30-90 minutes. You may additionally wear cotton gloves over foil gloves. After the recommended time, take off the gloves and dispose of them (foil ones). The residues of the mask should be removed from hands with paper towel or left to absorb. Repeat the treatment as needed, even several times per week.

Composition
Aqua (Water), Glycerin, Niacinamide, Panthenol, Tocopheryl Acetate, Lanolin, Prunus Amygdalus Dulcis (Sweet Almond) Oil, Ethylhexyl Stearate, Glyceryl Stearate, Cetearyl Alcohol, 3-O-Ethyl Ascorbic Acid, Allantoin, Ubiquinone, Carnitine, Tocopherol, Lecithin, Sodium Stearoyl Glutamate, Sodium Polyacrylate, Citric Acid, Disodium EDTA, Trisodium EDTA, Ethylhexylglycerin, Phenoxyethanol, Potassium Sorbate, Parfum (Fragrance).
More products from the series: