---
COMFORT socks with exfoliation 2 pcs.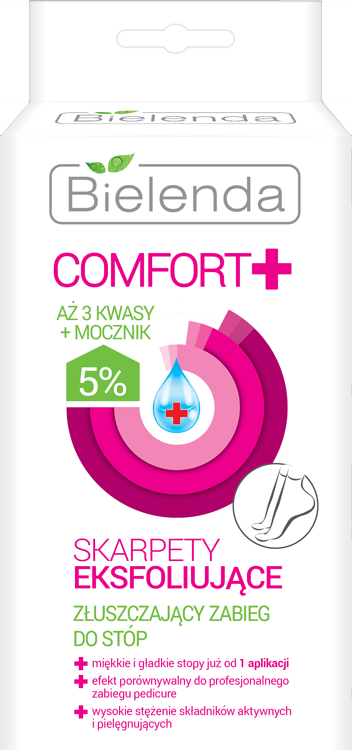 Product description
Exfoliating treatment for feet is a simple way to smooth and soft feet without cumbersome feeling, using mechanical peels, abrasive products or milling machines in beauty salons. It effectively removes dead, thickened and rough skin on feet and heals.

Working
The treatment is based on the unique combination of effective and safe active ingredients which form an exfoliating and nourishing complex, and helps to remove and renew problematic skin. Effective combination of 3 types of acids (Glycolic, Lactic and Salicylic Acid) and 5% concentration of Urea provides efficient care for parts prone to keratosis and hardening. The treatment actively supports natural processes of exfoliation of the skin of the feet, deeply renews and regenerates it, improves its appearance and comfort. Additional content of nourishing and soothing ingredients moisturizes the skin and helps it regain its balance.

Effect
Just one treatment visibly regenerates and renews the skin of the feet. In 7-10 days after the treatment the feet become perfectly smooth, soft, soft and well-groomed. The effect depends on the condition of the skin of the feet and the degree of callus build-up. The effects of treatment may last up to several weeks.

Usage
1. Slip the plastics socks contained in the set over clean and dry feet. 2. Pour the content of the sachets into each sock: 1 sachet per each sock. 3. Carefully put thick socks over the plastic socks. 4. Leave the product for 60-90 minutes, depending on the condition of your feet. 5. Carefully take off your socks and remove the plactic socks. Wash the remaining liquid off your feet with warm water.

Composition
Alkohol Denat., Aqua, Propylene Glycol, Urea, Glycolic Acid, Glycereth-18 Ethylhexanoate, Glycereth-18, Sodium Lactate, Lactic Acid, Salicylic Acid, PEG-40 Hydrogenated Castor Oil, Menthol, Glycerin, Polyquaternium-10, Citrus Aurantifolia Fruit Extract, Betaine, Allantoin, Sodium Benzoate, Potassium Sorbate, Parfum.
More products from the series: