---
BOTANIC FORMULA Hemp Oil + Saffron Moisturizing micellar water
BOTANIC FORMULA Hemp Oil + Saffron Moisturizing micellar water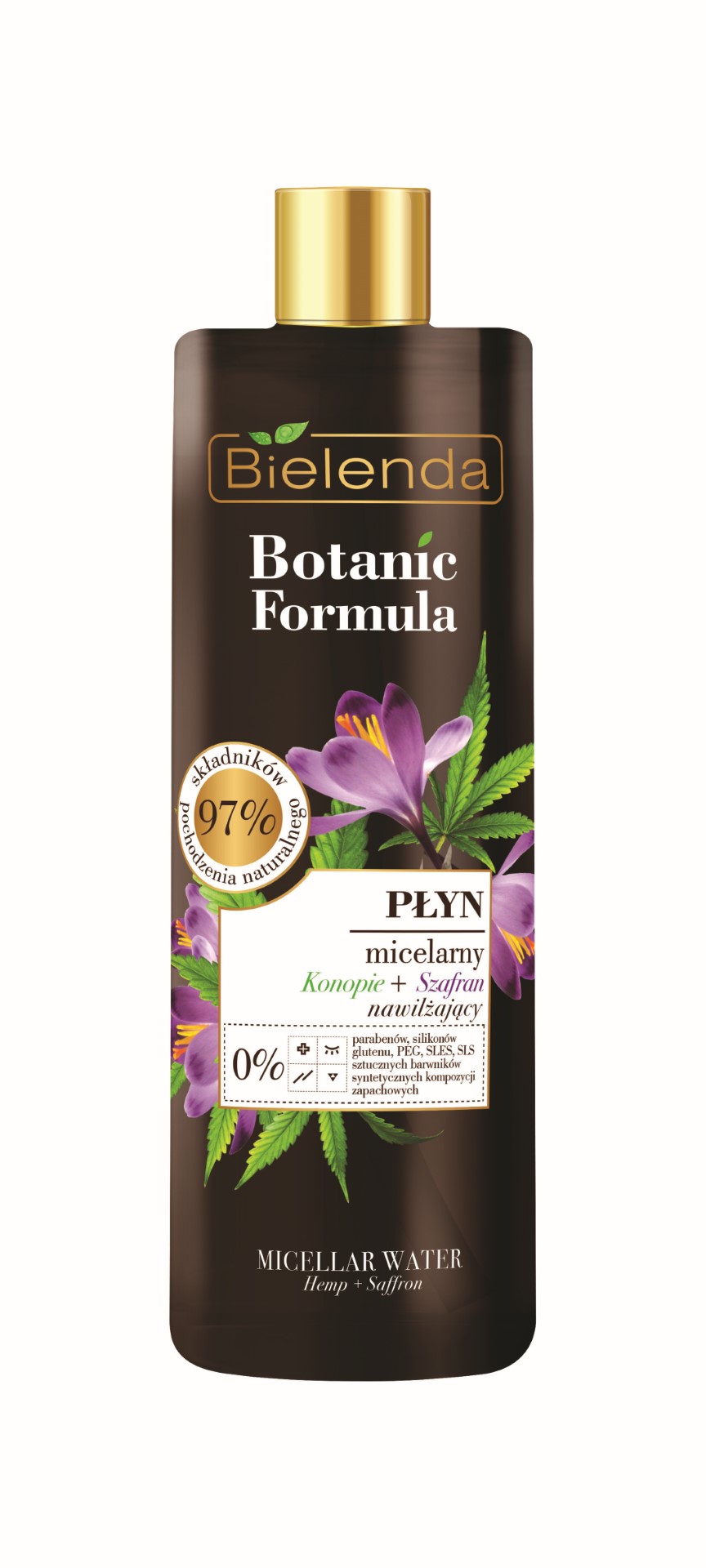 Product description
Botanical micellar liquid for all skin types, especially mixed, oily skin with visible imperfections, but also dry, sensitive, grey skin, dull, with discolouration.
97% NATURAL ORIGIN INGREDIENTS
Capacity: 500 ml

Working
ACTION
The micellar water has a high content of natural plant extracts
and it thoroughly cleanses and refreshes the skin, effectively removes makeup and other dirt. It provides the skin with everything it needs at the cleansing stage, it relieves and soothes irritations, it moisturises the skin and prepares it well for the absorption of a cream, mask, serum or oil from the Botanic Formula line. Cosmetic contains skin-beneficial natural active ingredients:
Hemp Oil
, which contains
Omega 3 and 6 acids
, as well as
A, B1, B2, B3, B6, C, D and E vitamins
. Deeply regenerates and nourishes the skin, prevents its slacking. Softens, smoothes, moisturizes, protects the skin against premature formation of wrinkles. Regulates sebum secretion, reduces the risk of discolorations and irritations improves skin tone.
Saffron
, which contains numerous minerals:
calcium, magnesium, phosphorus, potassium and folic acid
. Works as an antioxidant, slows the aging process of the skin, effectively lightens discolorations, optimally hydrates.

Effect
EFFECT
Clean, fresh, smooth skin, full of glow and without irritations.

Usage
APPLICATION
Moisten a cotton swab, clean the skin. Use every morning and evening or as a refreshing treatment throughout the day. Does not require rubbing.

Composition
Aqua (Water), Rosa Damascena Flower Water, Glycerin, Trehalose, Sodium Lactate, Betaine, Sodium Cocoyl Alaninate, Sodium Cocoamphoacetate, Crocus Sativus (Saffron) Flower Extract, Cannabis Sativa (Hemp) Seed Extract, Sodium Hyaluronate, Lactic Acid, Disodium EDTA, Sodium Chloride, Sodium Glycolate, Gluconolactone, Calcium Gluconate, Sodium Benzoate, Potassium Sorbate, Benzyl Alcohol, Sodium Dehydroacetate.
More products from the series: