---
HAPPY END Foot and Heel Scrub with Natural Pumice Stone
HAPPY END Foot and Heel Scrub with Natural Pumice Stone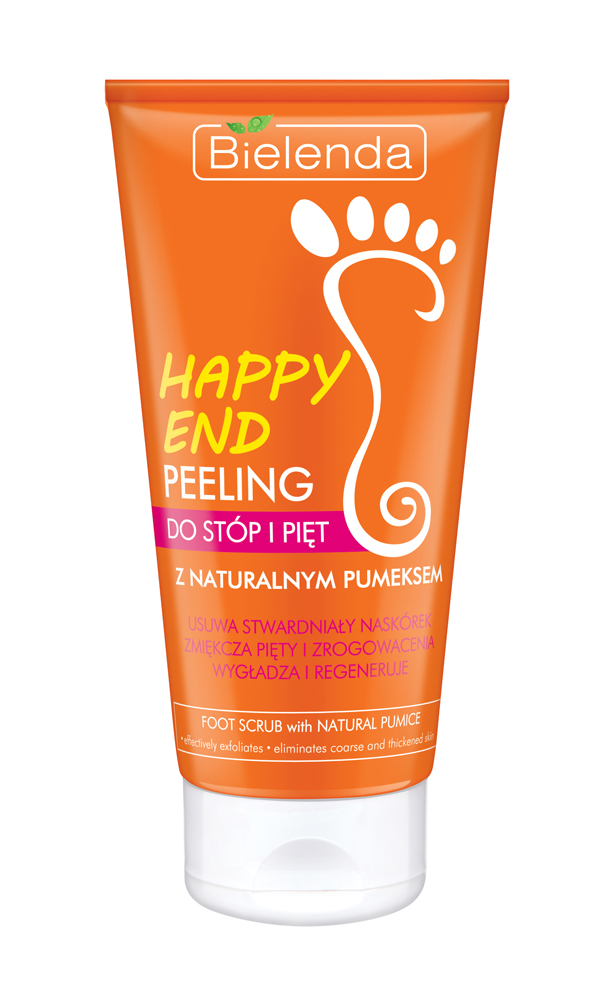 Product description
Product
Special smoothing scrub for regular foot and heel care. It helps to keep your feet clean and healthy. REMOVES THICKENED EPIDERMIS SOFTENS HEELS AND CALLOUS SKIN SMOOTHES AND REGENERATES 125 ml vol.

Working
Operation
It provides an instant action: softens, exfoliates and smoothes callous and thickened layers on feet and heels. Stimulates the natural process of skin regeneration and revival. Leaves the feeling of freshness and comfort.

Effect
Effect
Smoothed, soft and gentle skin on feet and heels, ready to absorb foot cream, all rough and thickened skin areas are eliminated.

Usage
Application
Massage the scrub into moistened and clean feet and heels, rinse with water, dry and massage HAPPY END Foot & Heel Marshmallow Cream or HAPPY FEET Foot & Heel Urea Cream. Use regularly at least once a week to effectively prevent painful and unattractive heel fissures.

Composition
Aqua (Water),Pumice,Cellulose Acetate,Urea,Paraffinum Liquidum (Mineral Oil),Glycerin, Ceteareth-18, Cetearyl Alcohol, Prunus Amygdalus Dulcis (Sweet Almond) Oil, Stearic Acid,Glyceryl Stearate, Squalene,Allantoin, Tocopherol, Ascorbyl Palmitate, Beta-Sitosterol, Triethanolamine,Phenoxyethanol, Benzoic Acid, Dehydroacetic Acid, Ethylhexylglycerin, Polyaminopropyl Biguanide,Parfum (Fragrance),Hexyl Cinnamal, Limonene.
More products from the series: