---
FOOT REMEDY+ Soaked exfoliating socks for calloused feet
FOOT REMEDY+ Soaked exfoliating socks for calloused feet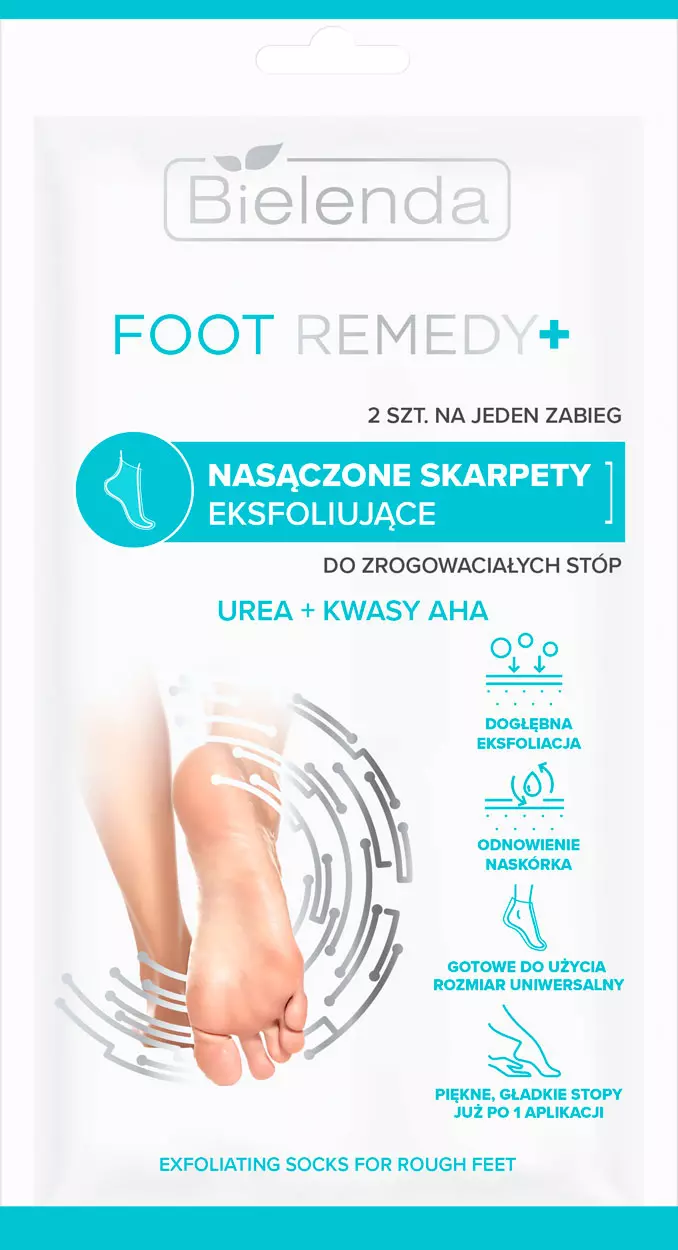 Product description
SOAKED EXFOLIATING SOCKS FOR CALLOUSED FEET 2 pcs.
It's an easy way to keep your feet smooth and soft without annoying abrasion.

Working
+ Effectively remove dead, thickened and calloused epidermis on the feet and heels through a thorough exfoliation process.
+ Regenerate and renew the skin of the feet, improve its appearance.
+ They contain high concentration of urea and AHA acids
+ They are effective and work from 1 application.

Effect
Smooth, soft and well-groomed feet after just one treatment. The effect appears after about 7-10 days from application and depends on the condition of the skin on the feet and the degree of its callus. The effect of the treatment may last up to several weeks.

Usage
Put foil socks soaked in the liquid on washed and dried feet. Leave on feet for 60-90 minutes – depending on the condition of the feet. Take off the foil socks carefully. Wash the remaining fluid off your feet with warm water. Throw the foil socks into the trash.
NOTE: Throughout the procedure, keep the feet in such a position that the fluid does not spill out. The process of exfoliation of the epidermis should begin 3-7 days after the treatment, and its length depends on the condition of the skin before the treatment. The exfoliation process can be accelerated by soaking the legs in the post-treatment period of exfoliation for about 20 minutes. In warm water (once to several times - the more often, the faster the exfoliation will take place). During the procedure, no additional exfoliating or abrasive agents should be used.

Composition
Aqua, Alcohol Denat., Lactic Acid, Glycolic Acid, Urea, Hydroxyethylcellulose, Sodium Lactate, Camellia Sinensis Leaf Extract, Sodium Hydroxide, Caprylyl/Capryl Glucoside, Glycerin, Mentha Piperita Oil, Sodium Benzoate, Potassium Sorbate.
More products from the series: