---
ECO NATURE - Coconut water + Green Tea + Lemon grass - detoxifying face scrub 150 g
ECO NATURE - Coconut water + Green Tea + Lemon grass - detoxifying face scrub 150 g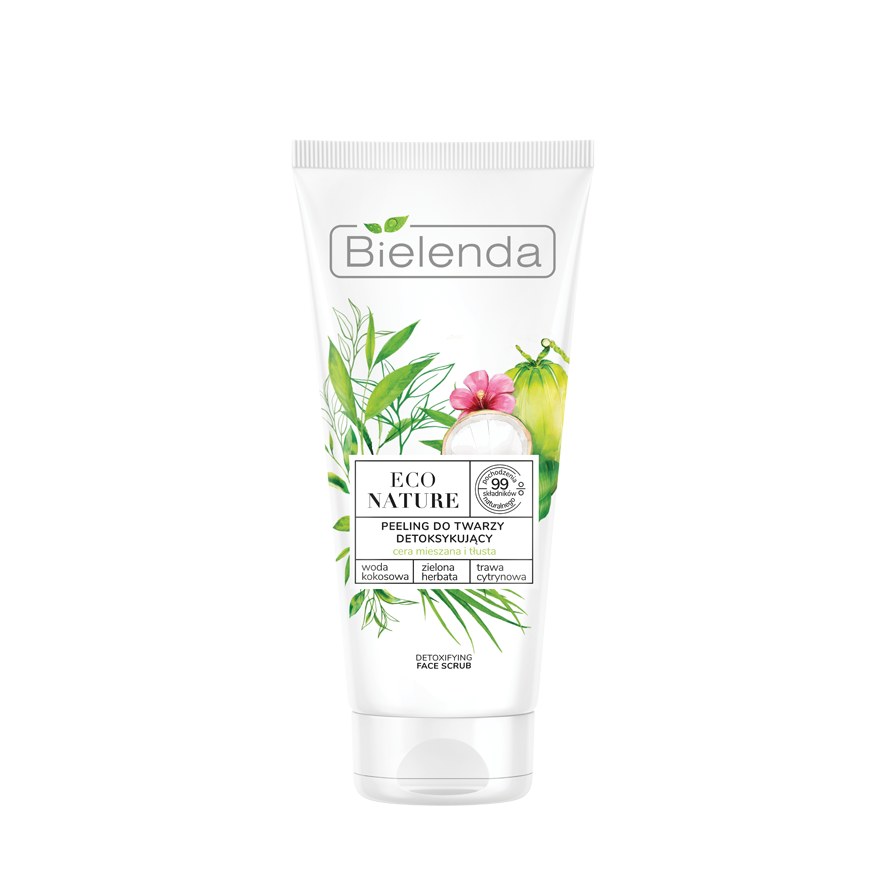 Product description
A FRIEND of combination and oily skin
The scrub contains 99% of natural ingredients that guarantee efficient detoxification of your skin. Thanks to the natural peeling particles, it thoroughly exfoliates dead skin cells, removes excess sebum, cleanses and refreshes the skin of the face. The scrub does not irritate the epidermis and does not disturb its balance. Perfectly prepares the skin for further care.
Capacity: 150 g

Working
We have enriched the recipe with beneficial ingredients. Coconut water contains valuable for the skin nutrients. Green tea known for its properties that normalize the work of sebaceous glands. Lemon grass has an antibacterial effect and reduces the occurrence of acne lesions.

Effect
WHAT YOU SHOULD KNOW
99% of the ingredients are of natural origin
1% of the ingredients ensure the durability of the cosmetic and the comfort of application
Tube and flip-top made of recycled material
Vegan formula
PETA Certified - #crueltyfree
Contains only natural dyes and fragrances

Usage
Spread the scrub on wet, cleansed skin of the face, gently massage in circular movements avoiding the eye area, and then rinse with lukewarm water.

Composition
Aqua (Water)*, Glycerin*,Pumice*,Vegetable Oil*,Xanthan Gum*,Camellia Sinensis (Green Tea) Leaf Water*,Cocos Nucifera (Coconut) Water*,Cymbopogon Citratus (Lemon Grass) Extract*,Cocos Nucifera (Coconut) Shell Powder*,Cellulose Acetate*,Beta-Carotene*,Tocopherol*,Polyglyceryl-6 Caprylate*,Proline*,Tapiocha Starch*,Citric Acid*,Sodium Salicylate**,Sodium Benzoate**,Potassium Sorbate**,Benzyl Alcohol**,Parfum (Fragrance)*,CI 77288*.
* ingredient of natural origin
** ingredient ensuring the durability of the cosmetic and the comfort of application
More products from the series: