---
BAKUCHIOL BioRetinol Moisturizing micellar liquid 500 ml
BAKUCHIOL BioRetinol Moisturizing micellar liquid 500 ml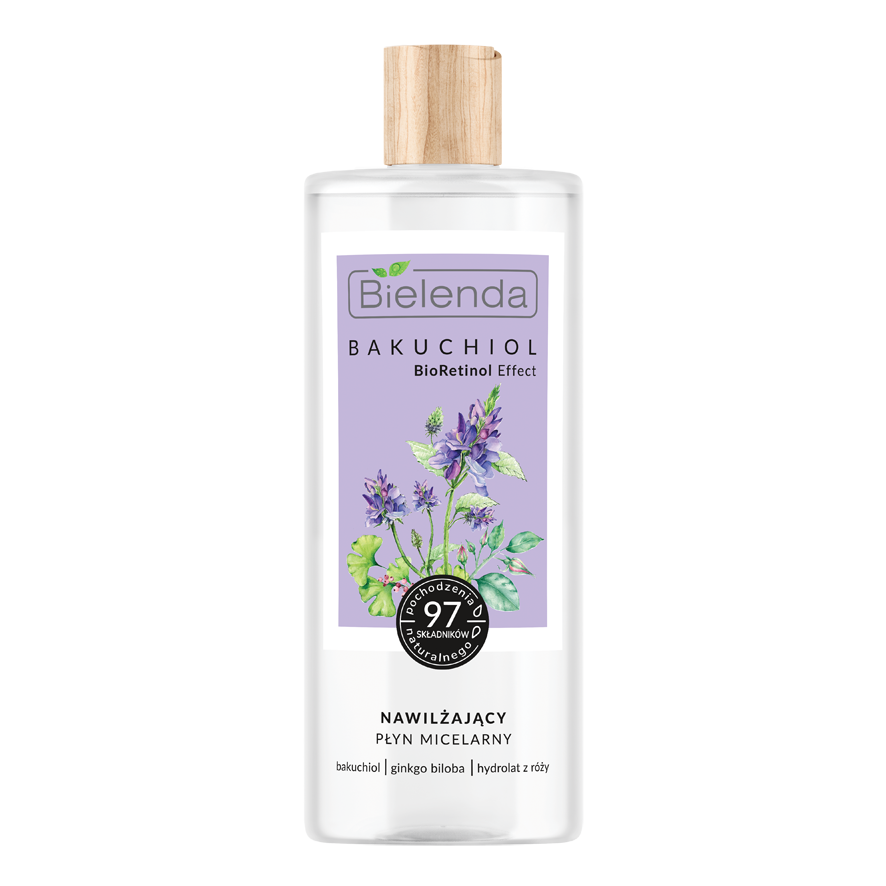 Product description
Rich in natural plant extracts, moisturizing micellar liquid for washing and removing make-up for mature skin. The fluid thoroughly cleans and refreshes the epidermis, effectively removes make-up and other dirt. It provides the skin with everything it needs at the cleansing stage, optimally moisturizes, soothes irritations, and perfectly prepares the skin for cream or serum. A beautiful, natural fragrance due to the high content of soothing rose water makes cleansing even more pleasant.
Capacity: 500 ml
The perfect care quality of the liquid is ensured by the presence of a precious, valuable rose hydrolate - natural rose water, with a moisturizing, toning and smoothing effect.

Working
The liquid contains BAKUCHIOL, a plant ingredient that, like Retinol, revitalizes sensitive skin. It smoothes and firms the skin nicely, regenerates the epidermis, and brightens discolorations. GINKGO BILOBA improves the skin's firmness and color. It stimulates the production of hyaluronic acid, ensuring the skin with proper hydration. JASMINE flower extract softens, strengthens and delicately brightens the skin, optimally moisturizes, prevents water loss from the epidermis, soothes irritated, dry skin.

Effect
Clean, fresh, smooth, radiant complexion.

Usage
Moisten a cotton pad with liquid, clean the skin. Do not rub hard and do not rinse. Use in the morning and evening or during the day as a refreshing treatment.

Composition
Aqua (Water), Rosa Damascena Flower Water,Glycerin,Coco Glucoside,Sodium Cocoyl Alaninate,Bakuchiol,Sodium Hyaluronate,Jasminum Officinale Flower Extract,Panthenol,Niacinamide,Proline, Polyglyceryl 6 Caprylate, Disodium EDTA,Potassium Sorbate,Phenoxyethanol, Ethylhexylglycerin,Sodium Benzoate.
More products from the series: