---
ANX Total Repair Nail Conditioner LIQUID DIAMOND
ANX Total Repair Nail Conditioner LIQUID DIAMOND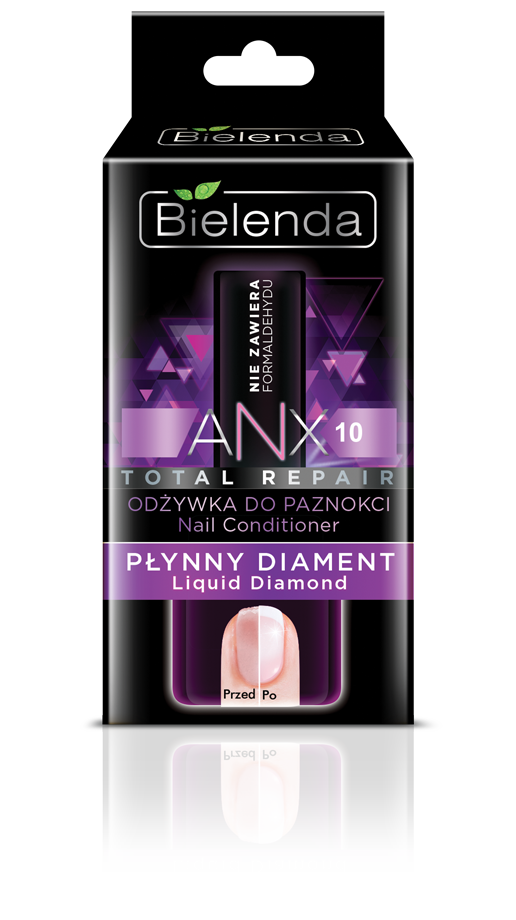 Product description
developed specially for soft, weak and brittle nails
supports natural nail growth
prevents split nails
rebuilds
strengthens the nails
gives natural and aesthetic appearance
hardens the nails and increases their resistance to cracking (acetyl methionine)
forms a protective coating against mechanical damage (diamond powder)
reduces brittleness / sensitivity of nails (organic silicones)
creates a glossy and hard coating on the surface of the nails, increases durability of the layer (sticky resin).
TRANSPARENT
conditioner
WITH IRIDESCENT GLOW
provides a beautiful, natural shine for your nails.

Working
opracowana specjalnie dla miękkich, słabych i łamiących się paznokci - wspomaga naturalny wzrost paznokci - zapobiegają ich rozdwajaniu - odbudowuje - wzmacnia paznokcie - daje paznokciom naturalny i estetyczny wygląd - utwardza paznokcie i zwiększa ich odporność na pękanie (acetylo metionina) - tworzy na powierzchni paznokcia powłokę odporną na uszkodzenia mechaniczne (proszek diamentowy)- zmniejszenie kruchości/wrażliwości paznokcia (silikony pochodzenia organicznego) - tworzy błyszczącą i twardą powłokę na powierzchni paznokcia, zwiększa trwałość  warstwy (lepka żywica).

Effect
TRANSPARENTNOŚĆ odżywki  Z OPALIZUJĄCĄ  POŚWIATĄ nadaje paznokciom pięknego naturalnego blasku.

Usage
Application
Apply a coat of the conditioner to clean and bare nails. Leave to dry. Use regularly, depending on the needs.

Composition
Ethyl Acetate, Butyl Acetate, Isopropyl Alcohol, Cellulose Acetate Butyrate, Sucrose Benzoate, Phthalic Anhydride/Trimellitic Anhydride/Glycols Copolymer, Camphor, Acrylates Copolymer, Bis(T-Butyl Benzoxazolyl) Thiophene, Alcohol Denat.,Glycidoxypropyl Trimethoxysilane, Dimethyl Oxobenzo Dioxasilane, PEG-8, MEK, Methacryloyl Propyltrimethoxysilane, Ethyl Ester Of Hydrolyzed Silk, Benzoyl Isopropanol, Benzophenone, Methyltriethoxysilane, Acetyl Methionine, Mercaptopropyltrimethoxysilane, Diamond Powder, CI 60725 (Violet 2)
More products from the series: